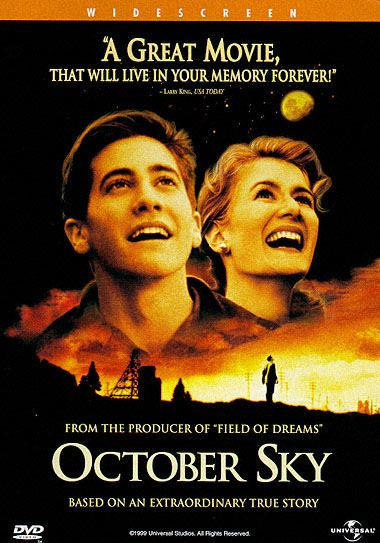 Dir. Joe Johnston
Starring: Jake Gyllenhaal, Chris Cooper, Laura Dern, Chris Owen
In October 1957 the Soviet Union launched Sputnik, the first manmade object in space. The world was transfixed. In the mining town of Coalwood, West Virginia, the community is transfixed as they watch the new star in heaven gliding across the heavens. For schoolboy Homer Hickam (Jake Gyllenhaal) that moment changes his life. He resolves to build his own rocket.
Best friends Roy Lee and Sherman (William Lee Scott and Chad Lindberg) are automatically with him, but they need more help. The school nerd Quentin (Chris Owen – the Shermanator from American Pie) is drafted in. Teacher Miss Riley (Laura Dern) provides support and encouragement. The workers in the mine company metalshop help with creating the necessary parts. The boys – the 'Rocket Boys' – proceed through trial and error, continually refining their calculations and their equipment. Soon their eccentric hobby galvanises the entire community, providing hope for a forgotten company town whose livelihood is being exhausted.
The one person who is not behind their work is Homer's father. John (Chris Cooper, previously seen in The Horse Whisperer, Capote and Me, Myself and Irene) is the mine company supervisor. Mining is his life and he measures the worth of a man in how good a miner he is. Following an accident he is hospitalised; Homer drops out of school to work in the mine to provide for the family. John's new-found pride in his son is obvious. But then Homer leaves the mine, re-enrolls at school and wins the regional science competition. The world beneath his feet fails to interest Homer; his dreams are of the stars themselves. This struggle for a father's acceptance plays as a counterpoint to the Rocket Boys' experimentation.
He demanded one... miiiiillion dollars - or else Washington was toast!
October Sky was never a film I had heard of. I never intended to use it as one of my three films for West Virginia. Today I was supposed to be watching The Mothman Prophecies. But I am so glad that I was unable to get hold of my first choice – October Sky is a brilliant movie. The amazing thing is that it is based on a true story. A rocketry project by four boys in a dead-end mining town went on to win the national science fair. Homer Hickam went on to work for NASA. But the film has real heart. The key is the difficult relationship between Homer and his father. I think that I have said previously that it is always father-son relationships which get me blubbing. This was no exception. John is a simple man trying to do the best for his family, his company and his community. Homer's stargazing is a distraction – he cannot see how that can support family or community. Yet the Rocket Boys give the folk of Coalwood hope and pride. Homer is clear that their victory is owed to everyone in the town. As the Boys' last rocket – named Miss Riley after their inspirational teacher – takes off everyone projects their own hopes and dreams onto that craft. Miss Riley watches the rocket take flight from her hospital window. On her deathbed she appreciates that she has done her job as a teacher – she has given her students hope and a way out of town. Homer gets his father to press the launch button. In that moment he appreciates that there is something greater than coal. The final reconciliation between Homer and John is touching. Mark Isham's simple score is integral to the mood.
Homer is conflicted in his relationship with his father. Early on he witnesses his father rescuing a miner from a cave-in. "That's my Dad" he says, proudly. John then proceeds to bawl out the unfortunate miner for his stupidity as he is lying there on his stretcher. "That's my Dad…" sighs Homer. John is not just any miner: he's the best miner around. He is driven and determined and Homer's difficulty is getting his father to understand that those traits are transferable. I ask any man not to end up sobbing as Homer confronts John:
"Dad, I may not be the best, but I come to believe that I got it in me to be somebody in this world. And it's not because I'm so different from you either, it's because I'm the same. I mean, I can be just as hard-headed, and just as tough. I only hope I can be as good a man as you. Sure, Wernher von Braun is a great scientist, but he isn't my hero."
October Sky deserves to be better known. I thought the story was compelling – it is like Stand By Me with father issues. It is simply and effectively acted, particularly by the central trio of Gyllenhall, Carter and Natalie Canerdy, who plays Homer's mom. It has certainly won me over into being a real cheerleader for the film.
What have I learnt about West Virginia?
South-west West Virginia is coal-mining territory. This is maybe not surprising; Coalwood, where the film is set, is about fifty miles south-east of Butcher's Hollow, Kentucky, where Loretta Lynn grew up in Coal Miner's Daughter. Coalwood is shown as a real company town. Not only does the Olga Coal Corporation own the mine, but it owns the land above the mine. This involves the land the town is built on. The Hickam's live in a house provided for by the corporation. The Rocket Boys have to walk eight miles to get off company property.
Expectations in the town are low. The school principal believes that it is his job to educate his students, but only enough to get them a job in the mine. It is only the rare few who get to leave the town on football scholarships. Otherwise college is out of reach.
Can we go there?
The film is set in
Coalwood
, West Virginia. The mines no longer run at Coalwood, but the town remains proud of its Rocket Boys. Between 1990 and 2011 the town hosted an
October Sky Rocket Boys Festival
– to which the real-life Homer Hickam always came. In 2012 the festival transferred to the nearby mining town of Beckley. Visitors are promised the chance to go down into the
Beckley Exhibition Coal Mine
as well as meet all four Rocket Boys. The 2013 event is scheduled for the first weekend of October.
There is a rival October Sky Festival – this one occurs in
Oliver Springs
, Tennessee. The roadways around Coalwood were too narrow for a full film crew. This meant that filming for the movie had to take place elsewhere. Oliver Springs was used for downtown Coalwood. A map of the locations used can be found
here
. The house used for the exterior of the Hickam residence was in
Petros
. 'Cape Coalwood', the slag field used for the Rocket Boys' launches, was south of Wartburg; it is on private land and cannot be visited. The scenes with the 'disused' railway line were filmed around Oak Ridge and Harriman. The train used belongs to the
Tennessee Valley Railroad Museum
in Chatanooga. The school scenes were shot in
Knoxville
– the interiors of 'Big Creek High' were really those of Brownlow School (which has now been converted into condos) and the exteriors were Fountain Creek Elementary School. The scenes in the big city of Indianapolis were also shot in Knoxville (the cinema Homer visits is the historic
Tennessee Theatre
on Gay Street).