Dir. Paul Feig
Starring: Kristen Wiig, Maya Rudolph, Rose Byrne, Melissa McCarthy
Last year's Bridesmaids was touted as 'The Hangover for girls'. I take exception to this. Yes, there is a wedding and there is final bachelorette party to Vegas, but that is as far as the similarities go. The Hangover was broad cartoonish comedy with an entire series of unlikely occurrences – a baby, a tiger, Mike Tyson, a naked Chinese guy in a car boot. Bridesmaids is actually really rather sad.
The star (and co-writer) of Bridesmaids is Kirsten Wiig. She plays Annie Walker, a lovely lady whose life is vanishing down the U-bend. Her bakery went bust, her boyfriend left her, she gets fired from her job, she is evicted from her flatshare, and she has unfulfilling sex with a sleazeball (played by Mad Men's Jon Hamm) who refers to her as his "number three". The only thing keeping her going is her childhood best friend Lillian (Maya Rudolph). As Annie's life collapses Lillian's is taking off. She is now moving in elevated social circles in Chicago and is engaged to be married. Annie is thrilled to be Lillian's maid of honour. The fly in the ointment is Lillian's new friend, the practically perfect Helen (Rose Byrne). Annie fears losing Lillian to the glamorous Helen. They have a conversation is which she opines that a person's childhood friends are the best ones they will ever have; Helen instead states that people are evolving and changing all the time.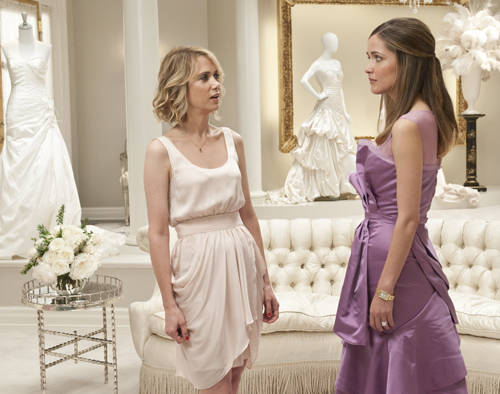 "...because the dress on the poster looked
more 'hot pink' than lavender..."
The scene is set by a cringe-worthy moment at the engagement party where Annie and Helen fight over getting the last word in speeches. Helen continues to overshadow Annie throughout the wedding preparations. Annie's restaurant selection gives everyone food poisoning. Helen gets them in to an exclusive dress shop – which is then trashed by an orgy of vomit and diarrhoea. Annie gets arrested by an air marshall and gets their flight to Vegas grounded. Finally, she is barred from attending her best friend's wedding after Helen steals her idea for a Parisian-themed party and she suffers a bit of a breakdown. (Mind you, the party is ridiculously excessive: puppies are offered as party favours).
This is a very different school of humour to that offered by The Hangover. This is the comedy of ritual humiliation. There are gross-out moments (such as the aforementioned food poisoning incident). There are ridiculous moments (largely the pie-in-the-sky lavishnes of Helen's party planning and the balls-out Melissa McCarthy as Megan). But most of the guffaws come from the continuing indignities heaped upon poor Annie. And fair play to all the actors for joining in with gusto. Jon Hamm plays possibly the biggest douche on screen. Sample line, after a night of sex: "This is so awkward. I really want you to leave, but I don't know how to say it without sounding like a dick." He fails.
There are moments of sweetness in the film too. Chris O'Dowd (Roy from The IT Crowd, who – along with Matt Lucas as Annie's landlord – provides a British element to the proceedings) has a very odd accent but is cute as Officer Rhodes, with whom Annie has a blossoming relationship. They fudge the fact that he is clearly not American and yet still serves in the state police. But with Lillian distracted elsewhere he represents Annie's best hope of salvation. And, of course, he helps her to save the day when Lillian goes AWOL before her wedding and Helen is left panicking. Sometimes only a longstanding friend can help. In this respect Bridesmaids has more heart than The Hangover. It is not so cartoonish.
What we see in these cash-strapped times is a clear division between the rich and everyone else. Helen is a trophy wife and can spend her time planning preposterous parties with free puppies, live butterflies in the invitations, designer wedding dresses, surprise trips to Paris and weddings in the middle of swimming pools. She can buy friends. It is tougher for people who try to create – people like Annie whose business went bust. And the rich don't seem to understand the budgetary constraints that others might be under.
But this is probably just reading too much into it.
What have I learnt about Wisconsin?
I didn't really have any preconceptions of what Milwaukee, where the film is set, would look like. And it looks stunning. The shots shown feature blue sky and blue water, with towering skyscrapers fringing the shores of Lake Michigan. It has been hit by the recession however - Annie's business has gone out of operation for example.
In this Milwaukee contrasts with Chicago, which has some very wealthy neighbourhoods, obviously, and we see Helen's luxurious mansion, a ritzy country club and a posh designer wedding dress boutique. Driving between the two cities is relatively painless. As long as you don't panic brake to avoid a porcupine. Raccoons also live locally.
Can we go there?
The film is set in
Milwaukee
. Establishing shots show the
Milwaukee Public Market
, the Santiago Calatrava-designed
Art Museum
and the sundappled lake shore. The exterior of Annie's apartment was shot at Kinnickinnic Avenue in Bayview, and Cholodecki's Jewelry Store was located at 1009 Mitchell Street.