Starring: Robert De Niro, John Cazale, John Savage, Christopher Walken
The success of Michael Cimino's first directorial feature, Thunderbolt and Lightfoot, gave him licence to make more ambitious cinematic offerings. His follow up was The Deer Hunter. Whereas Thunderbolt and Lightfoot was an ADHD-fast romp of car chases, guns and explosions with a buddy-buddy turn from Clint Eastwood and Jeff Daniels, The Deer Hunter

was something very different. Spread languorously over three hours it purports to be nothing less than a modern-day American tragedy in four acts.
Act one. We meet a group of six friends in an industrial steel-milling town. They have several things to celebrate. Steve (John Savage) is getting married in the morning. And then he, Nick (Christopher Walken) and Mike (Robert De Niro) are off to join the Airborne in Vietnam. Keen hunters, they are looking forward to the thrill of serving their country. In between wedding and shipping out they find the time for one last deer hunting trip into the mountains.
Act two. Contrasting with the glacially-slow pace of the first act, we suddenly find ourselves thrown into bloody conflict in Vietnam. Women and children are massacred, Vietnamese troops burn to death, and Mike, Nick and Steve are captured by the Viet Cong. Held prisoner, they are forced to play a barbarous game of Russian roulette for the entertainment of their guards. Led by Mike they escape, but Nick vanishes dazed off into the shady twilight world of Saigon.
Act three. Mike returns home. He cannot fit in to his hometown any more. He cannot even bring himself to shoot a deer. He finds out what happened to Steve, and he learns that Nick is still out in Vietnam.
Act four. With the fall of Saigon imminent, everyone is trying desperate;y to get out of the city. Into this maelstrom comes Mike, looking to make good the promise he made to Nick that he would not leave him over there. He travels deep into Saigon's sordid underbelly and finally finds his friend, changed beyond recognition.
For a film of four acts it is very much a story of two halves. The hometown scenes crawl along in washed out wintry greys. The scenes in Vietnam are fast and tumultuous, full of greenery and dark corners. It takes 50 minutes before the wedding is even over and they go hunting. Sure, the opening scenes set up the characters and there is something to be admired about direction that has the balls to take its time over these things, but it smacked to me of directorial preciousness. This part of the film could have been trimmed down, massively. 20-30 minutes could have been cut without any problems at all. In Vietnam the scenes are all action-action-action: explosions, a firefight, Russian roulette, the escape, the helicopter rescue, the backstreets of Saigon. Arresting image follows arresting image. And then we are once more back in America and the pace slows once more. Mike is not a talker. In many ways he seems quite uncommunicative. Apart from his five buddies he certainly seems to have trouble relating to women: Stan (John Cazavale) talks about how he keeps setting Mike up with women only to see him strike out. There is an attraction between Mike and Nick's girlfriend Linda (Meryl Streep), but the attributes that make Mike Mike (an iron will, a love of guns, manly camaraderie, a direct approach to matters) are the ones that serve him well in Vietnam. It is no wonder that he gets drawn back to the madness of the dying days of the war in his quest to find Nick.
In many ways I found it quite hard to understand Mike. Nick is much easier to understand. There is probably a reason why Christopher Walken's Oscar-winning turn has become the performance most often associated with The Deer Hunter. I didn't even know De Niro was in it until I started watching the film. But the transformation of Nick from the happy young man dancing at his pal's wedding to the haunted spectre seen drifting obliviously through the gambling circles of the Vietnamese underworld is a startling one. His is a mental disintegration under the stresses and strains of combat. Steve has a physical disintegration. When Mike finds him again his wrecked body is likewise shocking.
The Deer Hunter shows the effects on the Vietnamese War on America. We see the injured soldiers in the hospitals in Saigon and back home, hidden from sight. We see the bodies lined up to be shipped home. We see the barbarity of conflict. Yet it is harder to see the mental scars. Iron-willed Mike cannot shoot a deer. Nick slips into a world where he gambles nightly with his life for the buzz of being right on the edge. He puts all his trust and faith in luck, on the vaguaries of the spin of a chamber. He has no life or free will of his own anymore. Mike has to remind him who he is. It is almost as though those who come to Vietnam are drugged by it. It is an opiate. It is the symbol for the war itself. The one moment of free will Mike, Nick and Steve had was enlisting; after that their survival is purely down to luck. It is a metaphor of involvement in the war. The final somber rendition of 'God Bless America' is pure irony.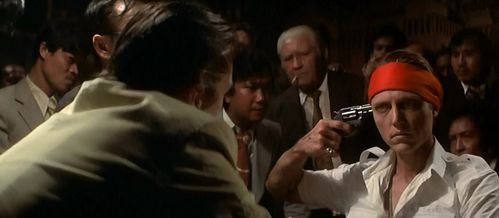 Things turned grim once they exhausted the Revels
But it also shows the effects of the American war on Vietnam. Saigon is shocking, a crowded, gaudy, neon mess. Pedestrians and traffic choke streets where G.I.s brawl and young women sell themselves for cash. In the backstreets even more unsavoury things go on. Yet this is not a revisionist piece. This is not showing the Americans as alien intruders in a cultured land – 1978 was far too early for that. The North Vietnamese are the bad guys. They are clichéd sadistic orientals. The first North Vietnamese soldier we see massacres women and children. The captors torture their prisoners and cruelly force them to play Russian roulette for their entertainment and gambling pleasure. This has nothing to do with winning a war: it is pure barbarity. Notably, when the film was shown at the Berlin Film Festival in 1979 the Soviet, Cuban, East German, Bulgarian, Polish and Czechoslovakian delegates walked out in 'solidarity' with the "heroic people of Vietnam".
I do not know what the over-arching theme of The Deer Hunter is. The contrast between the dull small concerns of hometowns and the hyperactive threat and danger of Vietnam perhaps. The enigma that is Mike is at the heart of this. It is certainly packed full of memorable images and packs a punch. But it is far too long. There is no need for it to be a three hour epic. Cimino could and should have trimmed 45 minutes from the running time. The Academy disagreed with me: The Deer Hunter won the Oscars for Best Film, Best Director and Best Editing alongside Walken's Best Supporting Actor gong. However, the inflation of ambition, budget and run-time between Thunderbolt and Lightfoot and The Deer Hunter is immediately apparent. The shoot went over budget and over schedule. The producers should have noted it before they allowed him loose on his third movie, the ill-starred Heaven's Gate…
What have I learnt about Pennsylvania?
Pennsylvania is not just historic buildings. It also has tough blue-collar industrial towns. Clairton, the town featured in The Deer Hunter, is based around a steelworks. The work seems dangerous, with tankers barrelling around corners, fire and molten metal everywhere. The rest of the town seems designed to service this one industry. Streets are lined with neon advertisement for bars where men bond over pool and booze. The beers are big and are accompanied by a spirits chaser. Drinking seems to be a major pastime. This might be due to the ancestral heritage of the inhabitants. A large proportion of the town seem to be of Russian descent – inlciding Michael Vronsky, Nikanor Chevetorovich and Steven Pushkov. They attend Russian Orthodox church services, they can sing in Russian and they known Russian folk dances.
But outside the towns the landscape is stunning. I knew that Pennsylvania had hills, but I did not know that it had sky-scraping mountains like those shown in the film. The peaks pierce the clouds. Glaciers of ice slide down the valleys. The mountains are heavily forested and are home to wild deer. Hunting is permitted, but seems to be licensed (based on the pieces of paper bearing numbers that the hunters all have on their backs).
Can we go there?
Things are not quite as they seem in The Deer Hunter. When I said that I didn't know that Pennsylvania had mountains like those depicted in the film I was more right then I knew. Those scenes were not shot in Pennsylvania: they were shot in
North Cascades National Park
in Washington. The spot on the road where the guys drive off while John (George Dzundza) is peeing is along State Road 20, just east of the Colonial Creek campground. When Mike lets the stag go free in the third act he sits on the bank of Nooksack Falls to listen to his echo.
In fact none of the scenes in the movie were filmed where they purported to be. The scenes in Vietnam were shot in Thailand, largely along the infamous River Kwai. The backstreets of Bangkok's Patpong district doubled for those of Saigon. The Mississippi Queen Bar was a real bar; I believe it is now known as
Goldfingers
. The U.S. Military Hospital was actually Bangkok's Rajini School. And while Clairton ("City of Prayer") really does exist, being located south of Pittsburgh, the film was not shot there. It was largely shot in Ohio - ironically enough considering that only one of my three Ohio films was made in that state, with A Nightmare on Elm Street being filmed in California and Super 8 being shot in Weirton, a similar industrial town in West Virginia (in fact the trailer occupied by Mike, Nick and Linda was shot in Weirton). Welsh's Lounge was constructed specifically for the film in an empty storefront in Mingo Junction, Ohio, less than ten miles south of Super 8's Weirton. After filming was completed it was then taken over and run as a genuine steelworkers' bar (Mingo Bar). It has now closed down. The scenes inside the steel plant were shot inside the U.S. Steel Central Furnaces complex in Cleveland. Starkweather Avenue in Cleveland's Tremont neighbourhood was also the real location of the
St. Theodosius Russian Orthodox Cathedral
, where Steve and Angela are married. The Eagle Supermarket, where Linda worked, was further down the same street. The reception party was filmed nearby in the
http://clevelandhistorical.org/items/show/325
Lemko Hall. The Louis Stokes' Veteran's Administration Medical Center was also in Cleveland. The Bowladrome Lanes in Struthers, Ohio, was used for the visit to the bowling alley.
One of the few Pennsylvania locations used was the cemetery at the end. This was filmed in Duquesne, Pa.