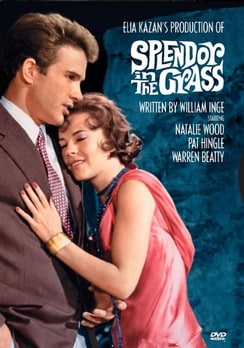 Dir. Elia Kazan
Starring: Natalie Wood, Warren Beatty, Pat Hingle, Audrey Christie
South-east Kansas, 1928, and passions are bubbling up waiting to explode like the oil from a gusher.
Bud Stamper (Warren Beatty in his first film role) is the high school American football and basketball captain. He is also the only son of Ace Stamper (Pat Hingle), head of the local oil company that has made the townsfolk rich. Fellow classmate Deanie (Wilma Dean Loomis to give her full name), played by the luminously doe-eyed Natalie Wood, is his girl. But their love for each other battles with more… earthy passions. They have reached a stage in their relationship where, as the film's posters stated "suddenly the kissing isn't a kid's game anymore, suddenly it's wide-eyed, scary and dangerous". Each of them struggle to reign in their raging hormones. But in 1920s Kansas, to whom can they turn for advice on all matters sexual? Only their parents. Deanie's mother (Audrey Christie) warns her to not give in to her desire: "Boys don't respect a girl they can go all the way with; they want a nice girl for a wife". At the same time Bud's father is fretting that if Deanie should become pregnant by his son the pair would have to wed, derailing all his plans for Bud to graduate from Yale and come back to a management position when his oil company inevitably gets acquired by a big east coast concern. His solution to Bud's dilemma is that he should instead find himself a different sort of girl, with whom he can indulge himself.
Wealth and morals intertwine in this tale. Bud and Deanie do genuinely seem besotted with each other, but they come from (slightly) different backgrounds. Ace refers to Deanie as being "poor". In actual fact she is from a nice middle-class shop-owning family who own thousands of dollars of shares in the oil company. They get invited to black-tie New Year's Eve balls and she clearly has enough money for frequent changes of dress. They are just poor compared to the Stampers. Ace is looking to start a dynasty. In comparison Mrs Loomis is overjoyed at the prospect of her daughter marrying in to the Stampers' wealth. The one weapon Deanie has in this unequal fight is her virginity. Mrs Loomis urges her to keep it as the way to snare Bud into wedlock; Mr Stamper fears that should she lose it to his son, Bud would have to marry her. They approach the subject from different sides of the debate, leaving poor Deanie the victim of her passions in the middle.
But it goes further than this. Mrs Loomis is deeply sexually repressed by today's standards. She tells Deanie that her father "never laid a hand on me until we were married. Then I… I just gave in because a wife has to. A woman doesn't enjoy those things the way a man does. She just lets her husband come near her in order to have children." In comparison, Mr Stamper is happy with his double standards. He later puts Bud's disinterest at Yale down to another infatuation; he attempts to remedy the situation by procuring him a showgirl for the night. He gladly divides the entirety of womanhood into two camps – good girls and the other sort, with whom one can guiltlessly slake ones needs.
The trouble for him is that he knows full well which camp his daughter Ginny falls. For my money Barbara Loden gives the performance of the film as Ginny, the flapper stranded in rural Kansas. Expelled from college, running with a loose crowd up in Chicago, she is brought back to Kansas to escape an annulled marriage and "one of those awful surgeries". She turns up with a flapper wardrobe and a ukulele, rolling her stockings down and singing songs, running off with bootleggers and drinking. Is it any wonder that the local men identify her as a bad girl. This culminates in a horrible scene where they queue up to take advantage of her drunken state at the New Year's ball. The inference that I took away with me is that she was, essentially, gang raped by a crowd of young men in black tie. I felt that she was a fascinating character, her desire to enjoy herself warring with her desire for her daddy's approval. There is a certain self-loathing to her character. At one point she snaps at Bud, "If you weren't my brother you wouldn't even come near me. You're a nice boy. I know what you nice boys are like - you only talk to me in the dark!" And I felt that hers was a fascinating story – one that we barely get to glimpse. After the ball she disappears from the screen. We later hear that she died in a car accident, a fact presented by Mrs Loomis with a very 'well, what can you expect of a girl like her?' tone of voice. (Eight years later Barbara Loden went on to marry Splendor's director, Elia Kazan, twenty-two years her senior).
Everyone's wild about Ginny
(she's the talk of the town...)
To be honest, the story is largely timeless. While it is set in 1928-9 I think the subject matter would have been just as relevant in 1961. It even has some relevance today. In many ways the film is very modern: the first half has a very recognisable high-school setting, with male and female students studying together, casting longing looks at the football captain and fumbling in the backseat of the car. John Hughes must have learnt all he knew from this film. The modernity of the setting struck me as anachronistic, just because I had never seen the 1920s depicted in this way. It is a time when every schoolboy seems to own a car, where they drive up lover's lane to make out at the waterfall, and where the female lead has a pretty dress for every different scene. Bud even goes to a pizzeria in Connecticut, though he admits he doesn't know what a pizza is (and it's an Italian New Haven pizza, not a Portuguese Mystic Pizza).
The handling of the teens' turbulent passions is well played, but for me it verges into melodrama in the second half of the film. After Bud follows his father's advice by indulging himself with the young, willing and able Juanita (Jan Norris) Deanie cracks up. Convinced by her mother that only bad girls have those sort of urges she models herself of Ginny and tries to seduce Bud at the prom ("Deanie, you're a nice girl!" "I'm not. I'm not a nice girl.") When he rejects her she attempts suicide, and is confined to a sanatarium for the next few years. Getting out she finds Bud married to his Italian waitress and managing a struggling ranch, his family's fortunes having been wiped out by the stock market crash. She herself accepts a proposal from a fellow patient at the hospital. Are they happy? Probably not, but too much water has slipped under the bridge as they ruefully acknowledge. They cannot go back now and, freed from their parents meddling, try to reignite that spark. The film ends with Deanie reciting the words of the Wordsworth poem from which the film takes its name:
"Though nothing can bring back the hour


Of splendour in the grass, of glory in the flower;

We will grieve not, rather find

Strength in what remains behind…"
What have I learnt about Kansas?
I was surprised when In Cold Blood mentioned that Kansas was home to natural gas. And Splendor in the Grass has taught me that it is also home to oil reserves – or that the south-east corner of it was in the late 1920s anyway. This was big business and made whole towns wealthy – as long as they sold their shares prior to the stock market crash. Bud describes the area as "quiet" Ginny describes it as "the ugliest place in the whole world. Everywhere you look there's an oil well, even on the front lawn."
Can we go there?
The film is set in South-East Kansas, though nowhere in the movie does it specify where. The screenwriter, playwright William Inge, stated that he based the drama loosely on people that he knew growing up in Kansas in the 1920s. This would mean that the featured community would be modelled on that of Independence, Kansas. In particular Ace Stamper can be seen as a stand in for real-life Independence citizen and oil magnate Harry F. Sinclair, who formed Sinclair Oil and ran Prairie Oil and Gas (like Ace, Harry was also lame in one leg, though this dated from a hunting accident rather than from falling off a derrick. I must admit though that I'm not sure whether Ace's limp was an original part of the script; Pat Hingle, who played him, had his own limp following a near-fatal 1960 fall down a lift shaft). Sinclair's 1906 mansion can be seen at 215 South Fifth Street. Independence Community College, Inge's former school, now houses the William Inge Center of the Arts. And there was a sanitarium in Wichita.
However, the Kansas scenes were not shot in Independence. The scenes in Bud and Deanie's hometown – and the Wichita Sanatarium and Yale college – were all filmed in New York. Interiors were mostly shot at Filmways Studio in East Harlem. Horace Mann High School in the Bronx stood in for Bud and Ginny's school. The Loomis house and other Kansas scenes were shot on Staten Island, on Victory Road in the west coast area of Travis. Bud's ranch was shot on Long Island, specifically on Beaver Dam Road in Brookhaven. The North Campus of the City College of New York was used for Yale, even when New Haven is not too far along the Connecticut shore from NYC. The waterfall was a distance from Manhattan though – those scenes were shot at High Falls in the Catskills.
Overall Rating: 3/5